1. Foreword
Newcastle is a safe city.  We have worked hard over many years to improve community safety, tackle offending and to protect and support victims.  After a sustained period of crime reduction both nationally and locally recorded crime levels have increased in recent years.  This increase can in part be explained by improvements in recording practices and changes to the way in which victims are supported through the criminal justice process.  However, there are signs that crime is also increasing in real terms, particularly with respect to violence.
There are many new and existing challenges which impact on community safety in Newcastle and therefore feature in this Plan either through our priorities or continuing business as usual.  We also need to build on some of the work we have undertaken in the last year or so, particularly around tackling extremism, and reviews of our approach to hate crime, anti-social behaviour child / adolescent to parent abuse.
This plan identifies five priority themes that we will pay particular focus on this year, these are; reducing the impact of anti-social behaviour, reducing the harm caused by drug & alcohol misuse, reducing violence against women & girls, tackling modern slavery, trafficking & exploitation, and preventing radicalisation, hate crime and community tensions.
These priorities sit in addition to the vast amount of work that we already deliver across the partnership to tackle crime and disorder, support victims and improve community confidence.
Safe Newcastle continues to face the significant task of meeting these existing challenges in the context of unprecedented year on year cuts to public services in Newcastle and personal uncertainty for some of our residents. This affects the work we can deliver to communities, families and individuals and presents us with difficult choices around demand and how we continue to deliver our services. Nevertheless, this threat further highlights the importance of partnership working to ensure the best use of limited and resources across all agencies and sectors.
We know that feeling safe and being safe are important to local residents and communities and key to attracting business investment. We also know that crime is expensive, it impacts on victims who can be frightened and less confident, it costs to get damage repaired and property replaced, it costs to be off work and crime can cause distrust and fear between people and communities. 
By working together to tackle crime fewer people are victims, as a community we are stronger and more confident - and we save money. We are pleased therefore to introduce the Safe Newcastle Delivery Plan for 2018-21.
Chair: Cllr H Rahman
Vice Chair: Supt S Barron
2. Introduction
Safe Newcastle is required by law to produce a delivery plan.  This plan is for 2018-2021 with a focus on delivery in 2018-2019.
This plan is aligned to other key plans such as Northumbria's Police and Crime Plan, the Youth Justice Plan, the National Drug Strategy (2017) and the Newcastle Drug and Alcohol Delivery Plan 2015 – 2018, Gateshead Community Safety Partnership Plan, Counter Terrorism Local Plan and those of our statutory partners -  Newcastle City Council (NCC), Northumbria Community Rehabilitation Company (CRC), National Probation Service (NPS), Tyne and Wear Fire and Rescue Service (TWFRS) and the Newcastle and Gateshead Clinical Commissioning Group (CCG).
We will continue to work on core business such as tackling and preventing crime and anti-social behaviour, supporting victims, keeping neighbourhoods safe and improving community confidence.  Some of the work we will continue as part of our core business is shown in section 4 of this plan.
We undertake an annual strategic assessment of community safety issues across Newcastle to understand what the key issues are that need to be prioritised.  Information from a wide range of sources and partners are sourced and brought together.  The strategic assessment allows us to look at our core business and make any necessary adjustments to interventions but more importantly it provides us with the intelligence to agree what our key priorities are and assists us to allocate resources where we will have the greatest impact or how best to work with partners to use existing resources or services more effectively.
Safe Newcastle has considered the findings of the strategic assessment and agreed the following priorities:
Reduce the impact of anti-social behaviour
Reduce the harm and impact of drug & alcohol misuse
Reduce violence against women and girls
Tackle modern slavery, trafficking and exploitation
Prevent radicalisation, hate crime and community tensions
3. Demand for Community Safety in Newcastle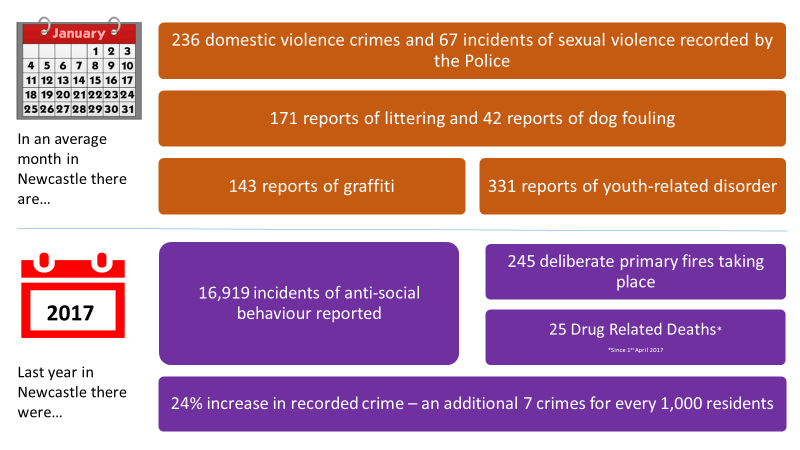 4. What we will continue doing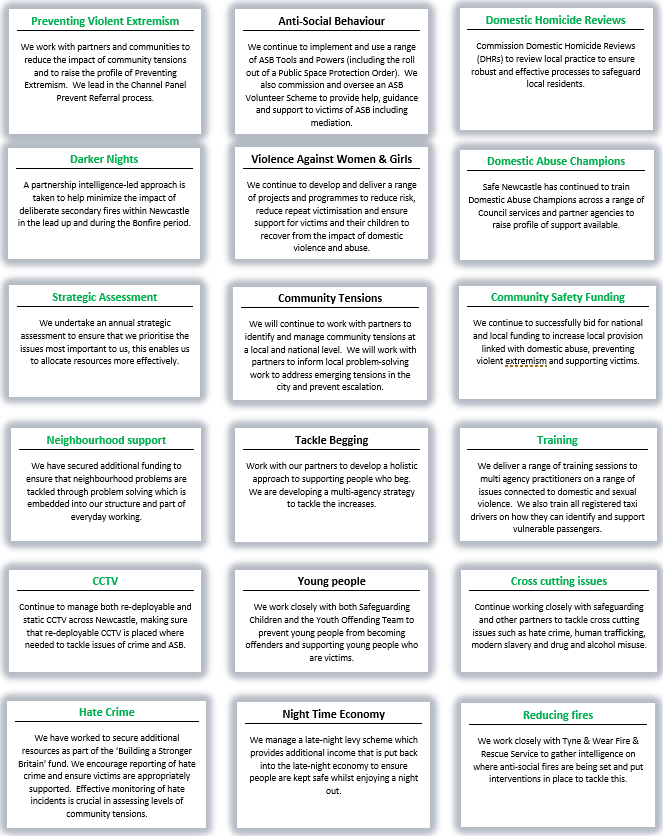 5. Strategic Priorities
The priorities identified through the strategic assessment are shared with other strategic partnerships in Newcastle, such as health & wellbeing and safeguarding.
Safe Newcastle works closely with these partnerships and there is significant cross over of work within these priorities.  Safe Newcastle also collaborate on shared issues, with neighbouring Community Safety Partnerships and with other Core Cities across the UK.
The Community Safety actions within these priorities are as follows:
Reduce the impact of Anti-Social Behaviour
This work is led by the Strategic ASB Group
Review and update partnership procedures for dealing with ASB
Develop a multi-agency intelligence picture and ASB strategy
Develop partnership communication strategy – building on communications used by Northumbria Police, to let communities and partners know the work we are delivering
Reduce the harm and impact of drug & alcohol misuse
This work is led by the Drug & Alcohol Governance Board
Make better use of existing datasets and intelligence to help shape services and respond to community issues – including development of a ward based 'index of wellbeing'
Develop a multi-agency intelligence picture around changes in and threats of drug supply
Advocate on national issues like Minimum Unit Pricing and a Public Health licensing objective – including developing an evidence base to demonstrate the local impact
Reduce violence against women and girls
This work is led by the Violence Against Women & Girls Strategic Group
Review and build on the impact of the Newcastle Integrated Domestic Abuse Service (commissioned in autumn 2016) - to ensure a coordinated community response for the city and identify gaps in current provision
Develop a multi-agency VAWG intelligence picture - building on recent profiles of domestic and sexual violence produced by Northumbria Police
Continue to develop support to children in families living with domestic violence
Tackle modern slavery, trafficking and exploitation
This work is led by the Safe Newcastle Board
Develop a multi-agency strategy for tackling modern slavery
Identify multi-agency funding opportunities
Identify a suitable Victim Reception Centre
Consider local alternatives to support processes
Develop targeted awareness training for professionals and shared situational awareness
Prevent radicalisation, hate crime and community tensions
This work is led by the Hate Crime and Community Tensions Monitoring Group
Sustain resources to deliver Prevent work
Develop Community & Voluntary Sector engagement
Review the ARCH system to determine requirements around third party hate crime reporting – including further engagement with schools and universities